Exculpatory Evidence Withheld, Leading to Murder Charges and Illegal Searches
John Harrison West was a graduate of Oregon State University in Corvallis, Oregon, who became a pharmacist and was living and working as such in Las Vegas. In 1985 he was living a decent, a good life until June of that year, when he was falsely accused of the heinous murder and sexual attack against Airman Beth Lynn Jardine, who was stationed at Nellis Air Force Base, which is just northeast of Las Vegas. Jardine was sodomized and beaten to death with a framing hammer.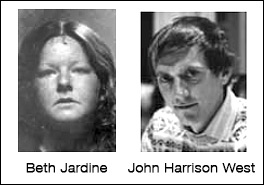 West was accused of picking up Jardine at a bar named Whiskey Creek that was on Charleston Boulevard near Nellis Boulevard. He was accused of going back with her to her apartment, and then striking multiple times with the kind of  hammer a builder would use to frame a house with — the autopsy report noted that she had been hit more than 20 times with this claw-style hammer  — and then sodomizing her after she was dead. When her nude body was found later by maintenance workers, blood and body tissue was splattered all over the floors, walls and ceilings of her apartment with large patches of bloody carpet and a bloody trail that investigators say showed that Jardine was dragged through the apartment and into a bedroom. Her ripped pants and panties were found near her.
A neighbor of hers, Dennis Lyon, said that he heard Jardine come home the night of the muder, apparently accompanied by someone else, who was her killer, and then heard loud banging — banging, according to him, like cabinet doors being slammed.
No one heard Jardine cry out or yell for help. She was 23 at the time of her murder.
The chief investigating officer on the case was Las Vegas Metro Police Department homicide detective Tom Dillard. He was the point person responsible for finding and understanding the facts of what happened and putting a case together that would lead to finding a suspect and getting a conviction.
Dillard went about building his case, and the result was the arrest of John Harrison West later in June. Why? Why West? What was the evidence and eyewitness testimony that tied West to such a brutal murder? There was physical evidence all over the apartment. There had to be hand or finger prints somewhere – perhaps even everywhere. There had to be eyewitnesses tying West to the Whiskey Creek bar the night of the murder. Someone must have seen Jardine and West together; sharing a drink, talking, leaving with each other … something. Someone had to see something going on at Whiskey Creek.
Unfortunately, after the arrest, more questions were raised than answers. It turns out that Dillard largely framed his suspect. Not something you want to believe that an officer of the law would do, but that's an accurate description of what happened.
John Harrison West spent about a month in jail but then was released; he didn't even make it to trial. Tom Dillard was the person responsible for collecting the evidence, obtaining the search warrants and charging West. West was swept up into something he had no idea about and could never imagine being caught up in. He was publicly accused of the crime by Metro PD and Dillard, news reports were written and broadcast detailing the brutal crime, and it completely changed the way people looked at him. The charges leveled against him essentially destroyed John Harrison West's reputation. In addition to having to spend a month in jail, he was held up to public ridicule and contempt; he lost his job, he lost the wages he would have made as a pharmacist, he lost his credit standing as well as future employability, he was torn apart emotionally, he was forced to move and bear those costs; essentially, the life he knew was over – torn and in tatters at his feet.
And yet Dillard knew or had reason to know that West was innocent. Innocent. As in not guilty of the crime for which he was being charged.
Dillard made an end run around the evidence. He ignored it and pushed through with his agenda of getting a conviction. Dillard and Metro PD did what you hope no police force would ever do: they tried to shape the evidence they were collecting in such a way as to conform with their idea of the case.
Dillard was charged with withholding exculpatory evidence. That means that Dillard had evidence that would have cleared West, and didn't come forward with it. And Dillard withheld this evidence from judicial authorities who were moving forward with issuing search warrants of West's property, home and person as well as his arrest warrant.
What that adds up to, besides ruining a man's life, was reckless disregard of the truth or the falsification of the truth by Dillard even though he knew or should have known of West's innocence. West's Fourth Amendment rights against unreasonable search and seizure were maliciously and willfully violated.
Imagine for a minute, that you're John Harrison West. You're a trained and respected pharmacist. You help people manage diseases; you help people manage pain; you help people ensure they take appropriate medications in appropriate doses and help ensure that the medications don't cause any adverse affects or interact with each other in a detrimental way. In some cases, you help save people's lives. Now imagine that you do what you do on a daily basis, until you're arrested and charged with a crime of which you know nothing about except what you heard or read. And not just any crime, a despicable, heinous crime in which a 23-year-old Air Force airman was brutally sexually assaulted and murdered. Can you imagine being that person and having to face people who assumed you were guilty of doing that, since you had been arrested for it? Can you really imagine what that might be like? It's almost incomprehensible.
Let's look at some of the facts that became apparent to Dillard, or should have become apparent to him if he was paying attention, during the investigation that would have clearly excluded West as a suspect during the evolving investigation.
Eyewitnesses: In Dillard's affidavit to obtain an arrest warrant there was an essential representation an essential fact — that Dillard swore to under oath — that West was in the Whiskey Creek bar with Beth Lynn Jardine on the night she was murdered. Yet police reports made by Detective Dillard regarding his earlier interviews with witnesses clearly show that West was not in the tavern that night at all, but rather may have been in the tavern approximately one to two weeks before the killing occurred. The question here is obvious: Why would Dillard falsify the affidavit he drew up to show probable cause for arresting West and getting a search warrant with the information that West was in the bar that night in that affidavit?
Physical evidence: One of the most basic forms of physical evidence that unequivocally puts a person at a location is the finding of fingerprints. Now, you can argue about when the prints were placed there, but the absence of prints is a tough thing to overcome, especially in a case like this one. Yet Dillard failed to let the magistrate know that he had exculpatory fingerprint evidence – evidence that would have shown that West was not Jardine's killer. Not long after the homicide, the Las Vegas police found several prints at the scene of the homicide, which police tapped as having been left by the attacker. Also there were identifiable prints that police were able to get from Jardine's car. The police concluded that Beth Lynn Jardine's car had been stolen by the murderer after he killed her and that the prints probably were those of the assailant.
Now, all of these latent prints from the crime scene and car were examined and compared to John Harrison West's fingerprints. And fingerprint experts for the police department concluded that they were not prints of John Harrison West.
Was all this information purposely withheld by Dillard?
And there's more physical evidence. Semen, body hair samples that were not the victim's and other physical evidence were able to be obtained from Jardine's body. And body fluids were obtained from West.
The lab that analyzed and compared the evidence reached the conclusion that it was a virtual medical certainty that John Harrison West was not guilty of the rape, sodomy and murder of Beth Lynn Jardine.
When the court received that information, it dismissed the capital murder charges against West. As a result of everything he went through, and everything he learned about what happened after being released, John Harrison West brought a civil rights case against Dillard and Las Vegas Metro. There wasn't really much to contest. Ultimately West's case was settled out of court. The defendants in the case – Dillard, Metro police and other "John and Jane Does" involved with the case paid West $650,000 as a result. One of the attorneys representing West in the Case, Pat Horton, was interviewed by the Eugene Register Guard newspaper when he came into the public eye there when he came out of retirement to work as a deputy district attorney in Oregon's Deschutes County a few years back.
Quoting from that article:
"Horton represented pharmacist John Harrison West, working with Eugene attorney Jeff Boiler to exonerate West, and later won a $650,000 settlement in his federal lawsuit alleging false arrest. West had been framed by a detective who included what Horton calls 'knowingly false information' in a sworn statement to obtain West's arrest warrant.
'They tried to adapt and model the physical evidence to conform with their theory of the case,' Horton said. He noted that Las Vegas Metro Police arrested the real killer of Beth Jardine 22 years later, based on DNA evidence."
(To read the full article, see Former DA takes on job he loves)
Also, on a bit of an ironic note, on the same day that West's damage award hit the newspapers and other media in Las Vegas, Howard L. Haupt called Horton. He told him he was very interested in speaking with Horton as Haupt had just been acquitted in his kidnapping and murder case in Las Vegas. And he told Horton he similarly wanted to go after Dillard and Metro, too, for falsifying affidavits and their efforts to try to frame and convict him.
You can read all about Howard Haupt's ordeal with Dillard here: Haupt Accused of Kidnapping and Murdering 7-Year-Old Boy
Beth Lynn Jardine's murder had gone unsolved for 22 years before a Las Vegas cold case detective matched DNA recovered from her crime scene with records from a national database in 2007. The DNA matched Charles Reese Conner, who was convicted in 1996 of raping and kidnapping a 10-year-old girl. He was arrested in 2007 in Arkansas in the Jardine case.
According to West's widow, who does not want to talk about the ordeal her husband and she went through some 30 years ago, John Harrison West "died a broken man." And she had two choice words for Detective Dillard: "Pure evil."